To reach your Grindr settings, click on your profile avatar of your main grid. Below you'll find some context on the options awaiting you there:
Show Me
In this section, you have control of where your profile is surfaced to other people on the app.
Show Me in Explore Searches: Toggling this will prevent your profile from appearing in other people's location-based profile searches, via city or zip code. This will not obscure your location from local users on your Grid.
Show My Distance: If you don't want your distance from other people measured and displayed, toggle this off. Keep in mind that your profile will still be visible to other people in your Grid, sorted by your distance from them. Therefore, other people may still be able to approximate your distance.
Show Me In Viewed List:

Toggle off "Show Me In Viewed List" to hide your profile from other people's

Viewed Me

lists. This will also disable your own Viewed Me list, and delete your existing Viewed Me history. If you re-enable Viewed Me at any point, your list won't include anyone who viewed your profile before or while it was disabled.
Discreet App Icon (DAI)
The Discreet App Icon (DAI) allows you to change the Grindr app image on your phone. It's offered on both platforms (Android/iOS) as a free privacy and security feature to everyone.
To set up your DAI:
Select your Profile icon.
Select Settings ⚙️.
Scroll down to Security.
Select the Discreet App Icon.
Select how you would like the Grindr app icon to appear on your device.
Check out the available icons based on your device type below, as well as some DAI troubleshooting steps.
iOS: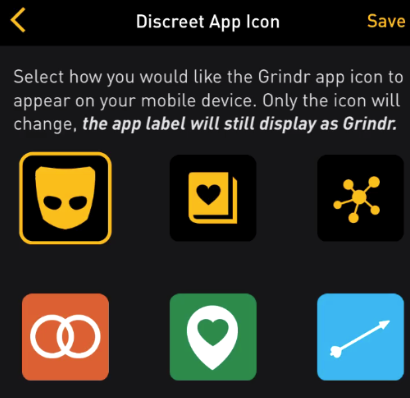 Android: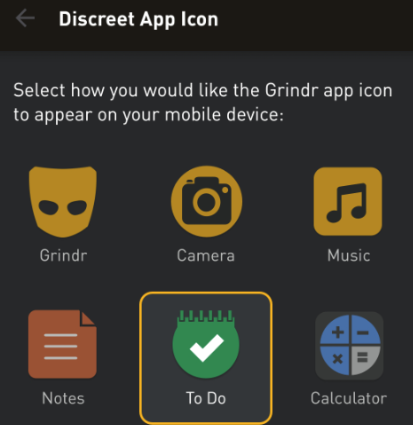 Troubleshooting steps:
iOS: check that your phone's language setting is the right one for your country's location.
Android: not seeing the new Grindr logo? When changing the app's original logo for one of DAI, you may need to go to the "All Apps Home Page" in your Android device to find Grindr and add it to your Home Screen again.
Device auto-lock
We know that some want to ensure that their device stays awake for longer periods so that their messaging time will be uninterrupted. We have made that possible on Grindr.
To keep your Grindr awake here's what you do:
Select your profile icon.




Select Settings (⚙).




Scroll down to Display Preferences.




Select Keep Phone Awake.
You may toggle this to ON or OFF as you please 🙂
PIN code
You can set a 4-digit code that will be required before opening Grindr on your device. Adding it will provide an extra layer of security for your account. You can change this code at any time.
Setting a PIN code
Log into your Grindr account.
Select your Profile icon.
Select Settings.
Scroll down to the Security Section.
Select PIN.
Tap on the toggle to Enable PIN feature.
Set the 4 Digits PIN.
Face ID, Face Auth, Fingerprint and Biometrics
To unlock Grindr using biometrics, you'll first need to set a PIN following the steps above. Once you've set your PIN, you'll see the option to toggle on Use Face ID.
iOS users can unlock Grindr via Apple's Face ID.
Android users can unlock Grindr via Face Auth, Fingerprint or Biometrics.
Important:
PINs set are not stored in our servers just like chats. We don't store them for the security and privacy of our users. So if you don't remember your PIN code then you will need to delete & reinstall Grindr to reset the configuration.
Unit system
Distance enabled/disabled
You can enable or disable showing your distance on your profile to others by doing the following:
Select your Profile icon.
Select Settings.
Scroll down and select 'Show Me'.
Tap on the toggle for 'Show My Distance'.
Note:
When the toggle is highlighted in Grindr's signature yellow, it is enabled.
When the toggle is shown in grey, it is disabled.
Metric & imperial measurement
You can set your distance indicators to show in either the metric or imperial system of measurement.
Select your Profile icon.
Select Settings.
You will find Unit System within this menu page.
Select Unit and you will be given the options Imperial (U.S.) and Metric.
Select your preference.
Note: You can change this setting at any time.
Related articles