Grindr uses your Google Backup Services to keep your chat backups every time you make one. These are hidden and cannot be transferred or downloaded for your own security and safety. 
If you are changing to a new device or you are getting the following error while attempting to back up your chats, this can be because of a synchronization issue with your Google Backup Services.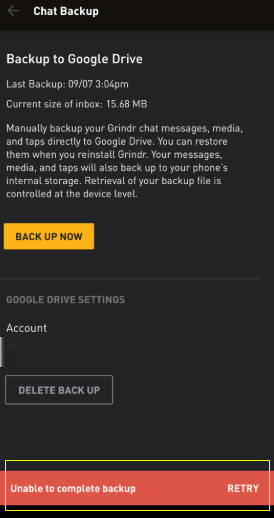 How to fix it? 
First, try logging out and then back in. If the issue persists then follow the steps outlined below: 
First, you will need to sign out from your Google Account in your device:

Here are the steps Google Support recommends you to follow in their article: Sign out of Gmail.

Go to your Phone Setting
Tap on Google (Cloud and Accounts in some OS)
Tap on Backup
Tap on Add Backup Account
Finally, attempt to back or restore your chats.
If you continue to have issues please check the next advised troubleshooting: 
If the above does not seem to fix the issue reach out to us at help@grindr.com or submit a request here.